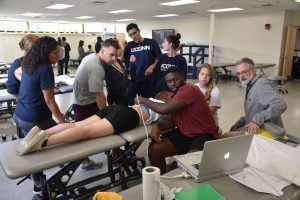 The role of clinical education in the preparation of Physical Therapy professionals cannot be overstated. Our program is committed to excellence in this critical area. Clinical sites are selected based on a history of high quality, evidence-based patient care as well as commitment to high standards for student education. Our program has developed clinical education agreements with some of the best medical facilities in the country, allowing our students to fully integrate and develop knowledge attained in our classrooms. Our goal is the development of competent clinicians who have strong ethical standards and high expectations for patient outcomes. We achieve this goal through collaboration with our clinical partners who demonstrate practice consistent with our program's philosophy, values, and goals.
Our clinical education program includes clinical experiences with diverse patients who are representative of the entire lifespan.  Our students are immersed in a wide variety of practice environments that span our profession's broad continuum of care. The curriculum includes both part-time experiences integrated with clinical science courses in Years 1 and 2 of the program, as well as 3 full-time clinical education courses in Year 3.
Part-time integrated clinical experiences offer students the ability to transfer what they are learning in the classroom to the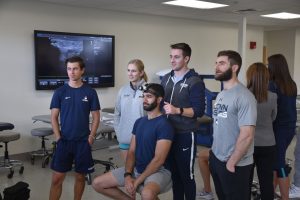 clinical environment. Part-time observation and/or patient care experiences are provided in settings such as hospitals, rehabilitation centers, home-based early intervention, schools, and community wellness centers. UConn Health and John Dempsey Hospital in Farmington, CT, provide many part-time and full-time clinical experiences via a strong and valuable partnership with our program.
In addition to part-time experiences, our students must also successfully complete a minimum of 33 weeks of full-time, supervised clinical practicum experiences in approved clinical education settings. The duration of the 33 weeks occurs in 3 unique practice settings for 10, 11, and 12 weeks, respectively. These three experiences are representative of the three major physical therapy practice environments: acute care, orthopedics, and team-based rehabilitation of patients with neurological conditions. Students' placement in full-time clinical experiences is done in cooperation with the Director of Clinical Education (DCE). The DCE educates and counsels students so that clinical experiences are best tailored to their educational and professional goals. Although some clinical experiences occur in close proximity to the UConn campus including the UConn Health Center, others may require travel outside of Connecticut. A lottery system ensures that placements are fair and that each student is given an opportunity for selecting a site which meets their needs.
The UConn DPT program remains dedicated to excellence in clinical education, placing this facet of our program at the forefront of our vision and identity.