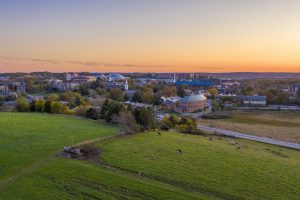 The University of Connecticut's Doctor of Physical Therapy program as a graduate program has two fee structures. The summer course fees which are based on a per credit rate and fees that is determined annually by the Bursar's office and the academic year (fall and spring semesters) that follows the fee structure of the Graduate School which is reviewed annually. In addition to the standard graduate student tuition and fees, a tuition differential is required for physical therapy students for the fall and spring semesters of each year of enrollment in the program.
In addition, all students are responsible for the costs associated with meeting their pre-clinical health and background compliance responsibilities. Some of these fees may be covered by the student's health insurance, but will also include additional medical tests, criminal background checks and drug screenings that they are required to pay out-of-pocket. These requirements must be met in the first fall semester of the curriculum, and up until the final year of their clinical affiliations.
Please see the following for information on tuition and fees:
Summer Tuition: http://summersession.uconn.edu/fees-and-dates/
Academic Year: https://bursar.uconn.edu/graduate-physical-therapy-tuition-and-fees-2/ 

Additional Planning Tools: Office of Student Financial Aid Services .